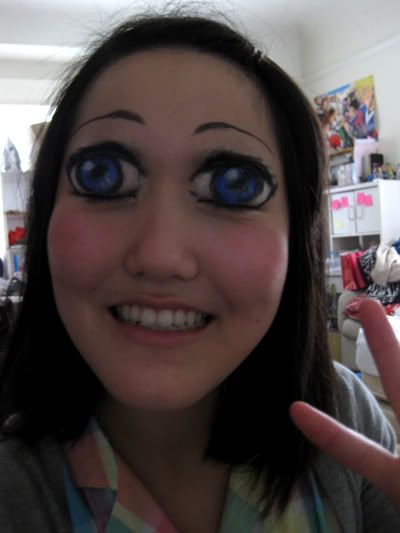 Done for a friend's photography project... xD
Also,
(
Collapse
)
Lotssss of stuff to do this week:
- Complete entry for Alice in Wonderland contest at USC
- Lab report
- Complete entry for Star Wars art contest
- Make Saki cosplays for Saturday
YAY.
I was kind of mehhh about cosplay for a while, mostly because my sewing machine was kind of not functioning. But I just looked up the problem and it took like FIVE SECONDS to fix it... all that had happened was the bobbin case fell out and I could not for the life of me put it back in but yeah, it was actually really easy. -_- But this weekend at Sakura gathering really revived me and I'm really excited to start on stuff for Fanime and AX~!
Also this weekend, I saw Cats at the Pantages Theater. I was initially very excited because Cats is my favorite musical EVER. But they were pretty crappy. :( It is a very difficult production but it was kind of weird because I feel like they botched most of the solo cat songs but the ones that involved the whole choir were more interesting than I ever thought before. But the biggest disappointment was definitely the Rum Tum Tugger, who was super awkward and COULD NOT DANCE. He's supposed to be this Elvis-inspired cat but he was just... awkward. -_- I could go on and on about how Victoria was supposed to be a cat who liked to dance but the girl who played her SUCKED, but I was pleasantly surprised by Jellylorum. She's mostly played by somewhat homely-looking/sounding people but she had a sweet quality to her that was pretty nice. Skimbleshanks was pretty solid, Mr. Mistofelees was surprisingly NOT stocky and short, and Mungojerrie couldn't sing and Rumpleteazer had to struggle to cover for him... but my expectations for Cats are probably WAYYY too high. Man I'm glad I didn't end up getting the $168 tickets out of blind devotion. >_>;;;